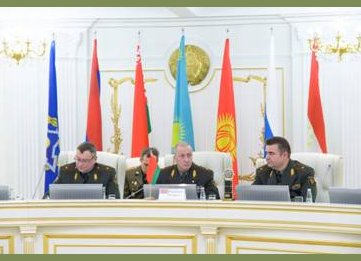 21 December 2016
Minsk Hosts CSTO Military Committee Meeting
On 21 December, Minsk hosted a meeting of the CSTO Military Committee.
In accordance with the Protocol Resolution of the CSTO Collective Security Council, Belarus assumed the presidency of the CSTO for 2016–2017. Chief of the General Staff, First Deputy Defence Minister of Belarus Maj. Gen. Oleg Belokonev took over the chairmanship of the CSTO Military Committee.
During the meeting, the participants summed up the results of the joint operational and combat training of command and control bodies of the CSTO collective security system in 2016, as well as discussed joint activities for 2017.
The decisions taken at the meeting will contribute to the improvement of multilateral military cooperation among the CSTO member states and the development of mutually beneficial partnership in the military sphere taking into account common, regional and national interests.
To improve the effectiveness of operational and combat training in 2017, it is planned to conduct the Combat Brotherhood joint operational-strategic exercise as a set of activities that are interrelated in objectives, tasks, place and time with the Zapad 2017 joint strategic exercise against a common background of the military-political and military-strategic situation.
Such an approach will ensure training the CSTO Collective Force to prevent (contain) and resolve a conflict, as well as carry out post-conflict peacebuilding.
The CSTO Military Committee Meeting was held in a fruitful and businesslike atmosphere.