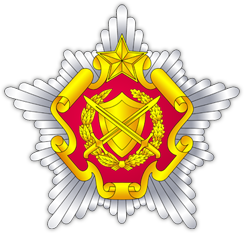 Army
The Army is the most numerous and versatile service of the Belarusian Armed Forces. Featuring high firepower, mobility and self-sufficiency, it is designed to repulse attacks of the enemy and defeat him in case of an aggression. Utilising the defence capabilities, the Army can effectively counter enemy land and air forces in conjunction with the Air Force and Air Defence. The Belarusian Army consists of armed branches and special troops, which are organised and equipped in accordance with their tasks. The service comprises mechanised formations, rocket troops and artillery, Army air defences, special troops, as well as logistics and maintenance units. 
Tasks in peacetime: 
upholding defence capability and combat and mobilisation readiness of the Army's headquarters, units and organisations against attacks of a local scale;
ensuring prompt transfer of the forces to wartime condition to counter an aggression;
pulling combat duty;
training headquarters and troops to conduct combat operations and other missions;
stocking and keeping military equipment and other material resources to support the Army's operations;
participating in disaster and emergency response operations;
maintaining high morale of the personnel.
Tasks in wartime: 
fulfilling its tasks under the Armed Forces' strategic deployment plan;
localising (preventing) possible armed conflicts and countering an aggression with the help of the Army's peacetime combat-ready units and, if necessary, with mobilised ones;
repulsing attacks in any strategic environment both independently and together with the allies;
conducting defensive and counteroffensive operations in conjunction with the Belarusian Air Force and Air Defence (with participation of CSTO militaries);
defeating the enemy and creating prerequisites for ceasefire;
building and training reserves, replacing losses in personnel and materiel to the Army's organisation and equipment standards.
Two operational forces deployed in the western and north-western operational directions form the backbone of the Army. They are capable to localise and stop a military conflict and, if necessary, conduct a local war, providing timely operational-strategic deployment of the Armed Forces and the whole state military establishment.
The Belarusian Army consists of operational forces, formations and units of the armed branches and special troops, as well as training and other units.