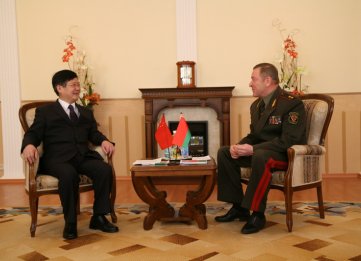 24 March 2014
Belarus-China Military Cooperation
On 24 March 2014, Belarusian Defence Minister Lt. Gen. Yuri Zhadobin met with Ambassador Extraordinary and Plenipotentiary of the People's Republic of China to Belarus Cui Qiming, whose diplomatic mission in Belarus began in February this year.
The parties stressed the commonality of interests and political views of the two countries, as well as the dynamic and systematic development of military cooperation.
Only in the last three years, seven Chinese high-level military delegations visited Belarus.
Military schools of both countries train the representatives of the Belarusian Armed Forces and the People's Liberation Army of China on a scheduled basis.
In 2011, Belarus and China hold the Swift Eagle joint anti-terrorist exercise on the territory of Belarus, which allowed sharing of experience and laid the foundation for further development of the Belarus-China relations in the field of joint training of the armed forces.
In 2012, a similar exercise was held in China. The joint exercises will take place in the future.
Humanitarian cooperation is of great importance to the Belarusian and Chinese defence ministries. Belarus greatly appreciates China's grant aid.
Yuri Zhadobin stressed that such interaction is a clear demonstration of the friendship between Belarus and China. He also confirmed the readiness of Belarus for further development of military and military-technical cooperation between Belarus and China.