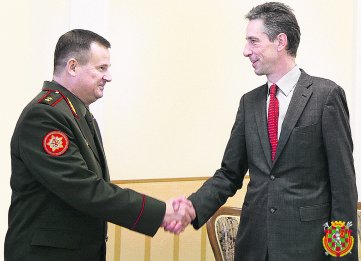 12 December 2016
International Military Cooperation Issues
On 12 December, Belarusian Defence Minister Lt. Gen. Andrei Ravkov met with French Ambassador to Belarus Didier Canesse.
The meeting was also attended by non-resident defence attaché at the French Embassy in Belarus Col. Christian Bartlen.
The event was held to mark the start of the French representatives' diplomatic work in Belarus.
The parties discussed international and regional security, as well as the state and prospects for bilateral military cooperation.