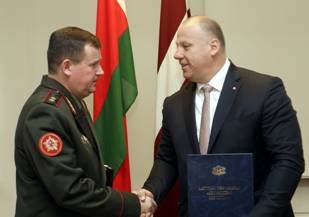 6 December 2016
International Military Cooperation Issues
Belarusian Defence Minister Lt. Gen. Andrei Ravkov met with Latvian Defence Minister Raimonds Bergmanis and Foreign Minister Edgars Rinkevics during an official visit to Latvia on 5-6 December.
During the talks, the delegations discussed a wide range of issues, including bilateral military cooperation.
The visit resulted in the signing of the Agreement between the Belarusian Defence Ministry and Latvian Defence Ministry on Defence Cooperation.
The Belarusian delegation visited the Instructor School of the Latvian National Armed Forces in Cesis where they familiarised themselves with Latvian military personnel training.